Last modified on 17/4/2009 at 11:04:00 AM. Total 6200 views.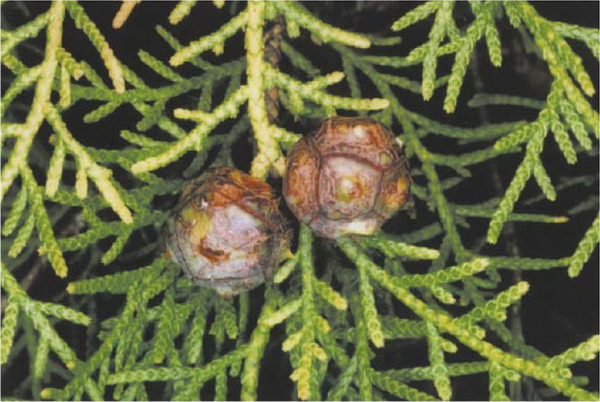 Cupressus sp.
Ripe seed cones from this tree
(photos by Nguyen Duc To Luu)

Data base
Common name: Hoang dan
English name:
Scientific name: Calocedrus sp.
Family: Cupressaceae
Older references for Vietnamese conifers identify Cupressus trees found in Lang Son and north-east Vietnam as C. torulosa D. Don (Nguyen Tien Hiep & Vidal, 1996; Vu Van Dung, 1996). This species is naturally restricted to the Himalayas. An introduced species C. lusitanica is widely planted in tropical countries and some specimens in Vietnamese herbaria appear to refer to this species (Farjon, 2002). Natural and many cultivated trees currently found in Lang Son do not appear to belong to C. torulosa. C. tonkinensis Silba was described in 1994, based on specimens collected from the Lang Son area around 1919 and others collected in Guangxi about the same time (Silba, 1994). Genetic and morphological comparison of material collected from natural and cultivated trees of known wild origin in north-east Vietnam strongly suggest that they are a distinct taxon which is closely related to C. funebris (Nguyen Duc To Luu & Thomas, 2004; Thomas et al., in prep.). Records of Cupressus funebris from Ha Giang (Le Tran Chan et al., 2000) need to be confirmed. This species has a long history of cultivation in China, especially near temples and its natural distribution is uncertain (Farjon, in press). Its occurrence in northern Vietnam may be the result of naturalisation.
Conservation status
Global status NOT EVALUATED
Existing national status RARE
Proposed national assessment DATA DEFICIENT
If this taxon is correctly identified and it turns out to be indigenous, then it should be listed either as Critically Endangered or as Extinct in the wild for Vietnam. Until then it should be regarded as Data Deficient, until identity is confirmed.

Cupressus sp.
1. Cone-bearing branchlet and ripe seed cone.
2. Part of branchlet in old canopy with scalelike leaves.
(Drawn from P. Thomas & N.D.T. Luu s.n. and Phong tai nguyen thuc vat, s.n. by Nguyen Quang Hung).

Description
This description is based on recently planted trees collected from Lang Son (Van Linh) and surrounding karst ridges areas. Upright single stemmed tree with broad pendulous crown up to 8 m with dbh to 0.4 m. It was found sparsely distributed on limestone ridges from 550 – 1000 m amsl. May have been associated with Nageia, Pseudotsuga sinensis and other limestone conifers. Natural regeneration absent.
Distribution

Map of distribution in Vietnam
In Vietnam, the last known natural tree of Cupressus sp. in Huu Lien NR in Lang Son was destroyed by a fire in January 2004 (Thomas & Nguyen Duc To Luu, 2004b). Records from Na Hang in Tuyen Quang represent Dacrydium elatum. Reports from Dong Van in Ha Giang (Le Tran Chan et al., 2000) need further verification. Its status in China also needs verification. The distribution of C. funebris in Vietnam, as well as its distribution in China need to be clarified before it can be regarded as indigenous in Vietnam.
Uses
The timber has a straight, fine textured grain that is resistant to termites and insects. It is aromatic, especially the roots, and does not deform or split after seasoning. Used for cabinet work, office furniture, high quality crafts and statues. It is also used for incense sticks and essential oil extracted from wood and roots can be used in medicine, perfumes manufacture, soaps and other cosmetics. It is also planted as an elegant ornamental tree with attractive juvenile foliage and mature shape.
Protected Area status
Huu Lien NR was established to protect the remaining trees (as well as many other threatened species) in 1986. Illegal logging and fire have eliminated this species from the reserve (Thomas & Nguyen Duc To Luu, 2004b).
Current conservation measures
This species has been the focus of extensive ex situ conservation and utilisation programs. A small stand of less than 20 trees has been established within Huu Lien NR. The Central Forest Seed Company and its associated State Forest Enterprise have undertaken propagation trials based on a collection of 40 clones established as a living gene bank to support future plantation work.
Recommended conservation action
Further research to establish the species identity is ongoing. Verification of previous reports for localities in Tay Con Linh and Ha Giang is also important. FPD, FDD and FIPI staff should be asked to report any new finds. Replanting and plantation programmes using propagated materials can be aimed at production of incense and essential oil. Recent market surveys (An Van Bay, 2003) have indicated that there is a substantial demand for Cupressus. Further trials to establish plantations should be undertaken. Genetic fingerprinting of the existing ex situ collections should be undertaken to establish the range of clones currently in cultivation.
Source: Nguyen Tien Hiep, Phan Ke Loc, Nguyen Duc To Luu, Philip Ian Thomas, Aljos Farjon, Leonid Averyanov and Jacinto Regalado Jr. "Vietnam Conifers, Conservation satus review 2004"