Last modified on 14/7/2015 at 10:35:00 AM. Total 455 views.
Luzula effusa was found at 2900 m in a bamboo dominated habitat along a heavily used hiking trail that leads to the summit of Mount Fansipan (3143 m).
Plant diversity on Mount Fansipan is reflective of its recent geological past (glacial refugium), geographical position in Southeast Asia, and different habitats created by variation in climate, soils, elevation, and aspect (Nguyen & Harder 1996, Nguyen 1998, Sterling et al. 2006). While Mount Fansipan has been the subject of recent floristic interest (e.g., Nguyen & Harder 1996, Nguyen et al. 2005a, Nguyen et al. 2005b, Nguyen et al. 2008, Vu 2012), our discovery of L. effusa is yet another indication that we are only beginning to understand the rich biodiversity that characterizes this part of Vietnam.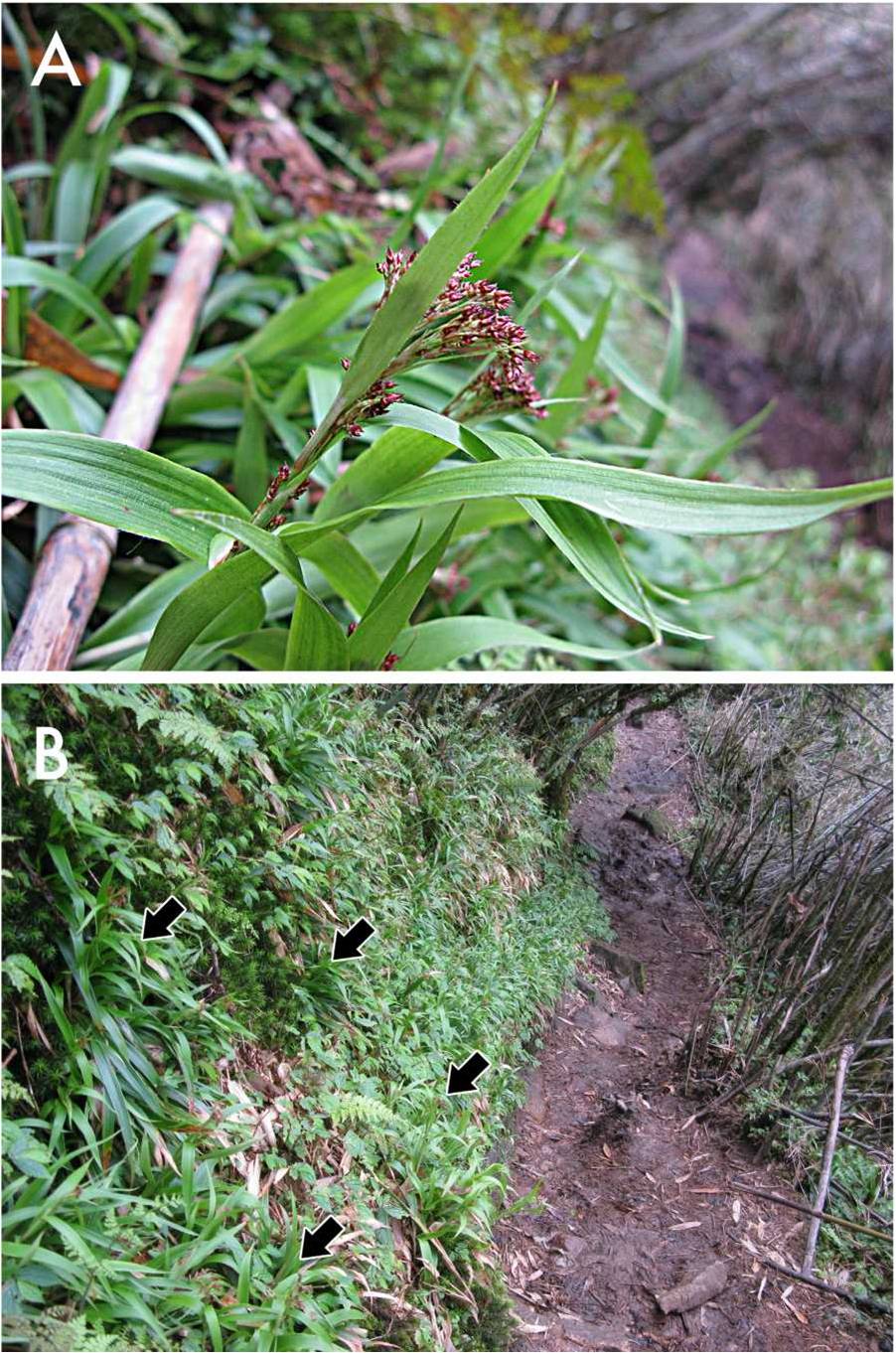 Luzula effuse var. chinensis on the field
specimen stored at Manitoba University, Canada
Specimen Examined:—VIETNAM. Lao Cai Prov., Sapa Dist., Hoang Lien National Park, Nui Xe Ranger Station at Tram Ton Pass. Main trail (Nui Xe) to summit of Mount Fan Si Pan, E103°46'10.4", N22°18'35.9", 15 April 2012, Ford 1250, Starr, Nguyen, Vu, Regalado (WiN).
BRUCE A. FORD
Department of Biological Sciences, University of Manitoba, Winnipeg, Manitoba, R3T 2N2, Canada
ANH TAI VU
Institute of Geography, Vietnam Academy of Science and Technology, Hanoi, Vietnam
KIM THANH NGUYEN
Department of Botany, Faculty of Biology, VNU University of Science, Hanoi, Vietnam
JULIAN R. STARR
Department of Biology, University of Ottawa, Ottawa, Ontario, K1N 6N5, Canada